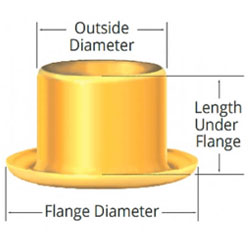 GS Eyeleting System
The Most Versatile eyeleting system available
The GS system lets you choose from 72 sizes, graduated by 32nds of an inch in both length and barrel diameters
GS eyelet sizes in stock in brass base material
Nickel, black chemical, cadmium, electro tin, antiques and custom painted finishes and platings are available
The GS system gives you the flexibility of using all lengths of the same barrel diameter without changing setting tools. This saves you time and money
Most automatic feed machines can run all lengths of the same barrel diameter with easily interchangeable parts
Siska Inc. also has a complete line of setting machines and over 80 years of expertise in building, modifying and repairing eyelet and grommet attaching machines.
Most common applications for Industrial Eyelets are:  print finishing, holsters and knife sheaths, electronics, medical and because of their versatility many other general eyelet applications.
Inches
Length Under Flange
2/32
.062
3/32
.093
4/32
.125
5/32
.156
6/32
.187
7/32
.219
8/32
.250
9/32
.281
10/32
.312
11/32
.344
12/32
.375
13/32
.406
14/32
.437
Outside Diameter
.059

S-4

GS 2-2

S-5

GS 2-3

S-6

GS 2-4

S-7

GS 2-5

S-8

GS 2-6

S-9

GS 2-7

Flange Diameter
.105
Metal Thickness
.007
Outside Diameter
.089

L-11

GS 3-3

L-12

GS 3-4

L-12L

GS 3-5

L-13

GS 3-6

L-14

GS 3-7

L-15

GS 3-8

L-16

GS 3-9

L-17

GS 3-10

L-18

GS 3-11

L-19

GS 3-12

Flange Diameter
.150
Metal Thickness
.009
Outside Diameter
.121

S-14

GS 4-3

S-15

GS 4-4

S-16

GS 4-5

S-17

GS 4-6

S-18

GS 4-7

S-18L

GS 4-8

S-18XL

GS 4-9

S-19

GS 4-10

S-20

GS 4-11

S-21

GS 4-12

Flange Diameter
.200
Metal Thickness
.0095
Outside Diameter
.152

S-23

GS 5-3

S-24

GS 5-4

S-25

GS 5-5

S-26

GS 5-6

S-27

GS 5-7

S-28

GS 5-8

S-28L

GS 5-9

S-29

GS 5-10

S-30

GS 5-11

S-31

GS 5-12

Flange Diameter
.245
Metal Thickness
.010
Outside Diameter
.183

S-32

GS 6-3

S-33

GS 6-4

S-34

GS 6-5

S-35

GS 6-6

S-35L

GS 6-7

S-36

GS 6-8

S-37

GS 6-9

S-38

GS 6-10

S-39

GS 6-11

S-40

GS 6-12

S-41

GS 6-13

S-42

GS 6-14

Flange Diameter
.290
Metal Thickness
.0105
Outside Diameter
.215

S-43

GS 7-3

S-44

GS 7-4

S-45

GS 7-5

S-46

GS 7-6

S-47

GS 7-7

S-48

GS 7-8

S-49

GS 7-9

S-50

GS 7-10

S-51

GS 7-11

S-52

GS 7-12

S-53

GS 7-13

S-54

GS 7-14

Flange Diameter
.340
Metal Thickness
.011
Outside Diameter
.246

S-55

GS 8-3

S-56

GS 8-4

S-57

GS 8-5

S-58

GS 8-6

S-59

GS 8-7

S-60

GS 8-8

S-61

GS 8-9

S-62

GS 8-10

S-63

GS 8-11

S-64

GS 8-12

S-65

GS 8-13

S-66

GS 8-14

Flange Diameter
.385
Metal Thickness
.011
Print Eyelet Chart