J-98 Electric Powered Rivet & Cap Setting Machine
J-98 Electric Rivet Machine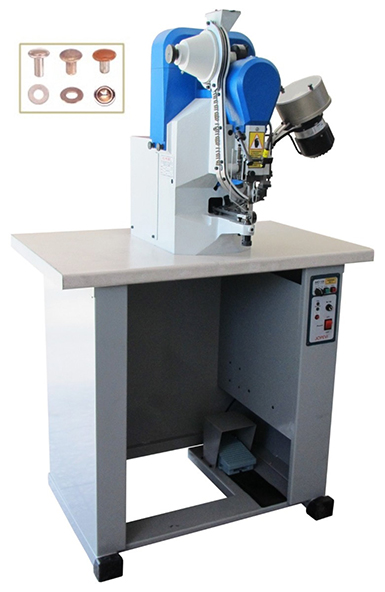 The J-98 is an electric powered dual feed rivet machine capable of punching and setting rivets and caps into leather, cloth, plastics, nylon webbing and most other materials.   The machine punches and sets in one stroke. Like all auto feed machines, the J-98 is set up to run one size rivet only but has the capability to run different length barrels of the same size rivet.
Size Capacity:   The J-98 can be set up to run most popular size rivets and caps
Advantages:      Cost effective, easy to operate and very efficient
Maintenance:     Lubrication with 30wt motor oil before use is recommended
Optional
Equipment:         Mobile stand with casters
Work plate with back and side gauges for accurate placement of rivets
Laser locating light
LED table work light
Specifications:
Dimensions:  26 inches deep, 36 inches wide, 56 inches high
Weight: 260 pounds
Electrical requirement:   110 Volt A/C single phase – standard wall outlet
Pneumatic requirement:   None
Motor Size:  1 H.P.