Siska Rapid Eyelet Machine
Siska Rapid Eyelet Machine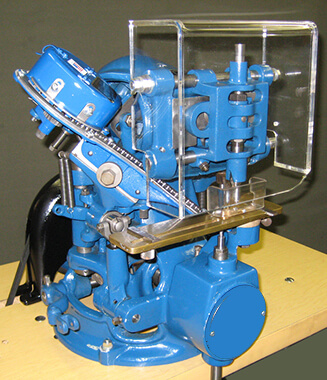 1/8th to 1/4 inch Eyelets
This fully automatic electric powered eyelet machine punches, spaces, feeds & sets up to 300 eyelets per minute.  It is the fastest sequential eyelet machine available in any market.  This machine is a staple in the belt manufacturing industry and a version for shoe manufacturers of this machine is available to the Footwear Industry.
Spacing between eyelets is fully adjustable from 5/8 of an inch to 1.125 inches between hole centers. Additional eyelet feeders can be purchased to change eyelet sizes quickly and easily making this machine very versatile. A heavy duty machine stand is standard.
The eyelet feeder can be easily removed and the machine can be used solely as a hole puncher for 9 different size round holes and 4 sizes of oblong holes.
Size Capacity:   3/16 inch to 5/16 inch eyelets
Advantages:      The fastest fully automatic eyelet machine available.
Increase in production of 5 to 10 times of a standard auto feed eyelet machine
Maintenance:     Lubrication with 30wt motor oil before use is recommended
Optional
Equipment:        Interchangeable raceways to run different eyelets are available

Specifications:   

Dimensions:  36 X 28 base, mounted on table: 48 inches high
Weight:  185 pounds
Electrical requirement:   110 Volt AC single phase – standard wall outlet
Motor Size:  1/3 HP
Pneumatic requirement:   None