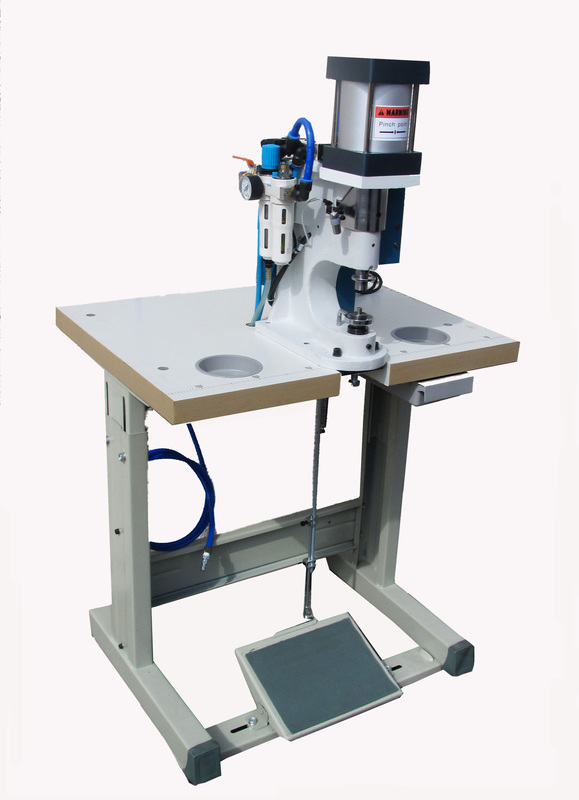 AP-900 Pneumatic Press
The AP-900 is an economical table mounted pneumatic press suitable for setting eyelets, grommets, rivets and snaps or any other fastener that needs pressure for setting. The setting dies are easily changed and adjusted making the machine extremely user friendly.  The machine is operated by foot petal and is easy to use.
The AP-900 features a ring  guard sensor that prohibits the machine from cycling if fingers or other foreign objects interfere with the dies. The machine also has an automatic double punch prevention safety.
The AP-900 comes standard with a laser locating light to position your work. It runs on 120 PSI air supply and 110 volt electric for laser target light and ring guard safety
Size Capacity:
1/8 inch diameter eyelets to a #4 Rolled Rim Grommet 9/16  inch  hole diameter
Advantages:
Economical entry level hand feed machine. Strong, dependable and very easy to change fastener sizes.
Capable of setting a very wide range of fasteners
Maintenance: 
Lubrication with 30wt motor oil before use is recommended
Optional Equipment:
Mobile stand with casters
Adjustable table height
Workplate gauge with adjustable back and side distance stops
Specifications:
Dimensions: 21 inches deep, 28 inches wide, 30 inch table height, overall height 38 inches
Weight 145 pounds
Electrical requirement:  110 volt a/c single phase  (standard wall outlet)
Pneumatic requirement: 120 psi
Motor Size: None