United Shoe Machinery Model C
United Shoe Machinery Model C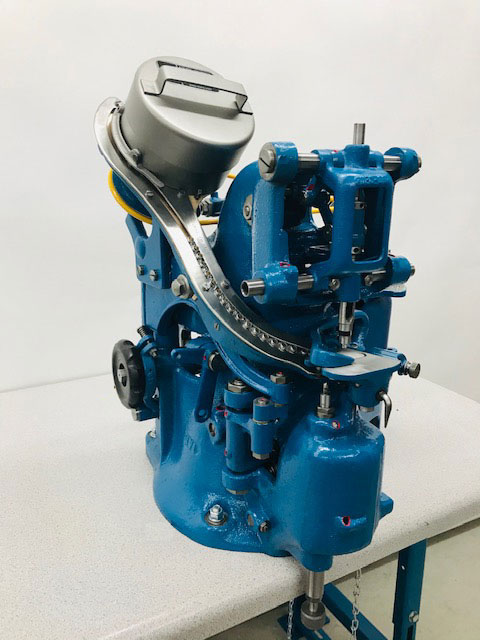 The Model C machine has been the staple in the shoe and boot manufacturing industries for over 50 years. Its ability to punch the hole, space the eyelet, feed the material and then set the eyelet at 450 per minute, make this machine the fastest and most efficient eyelet setting machine for shoe and boot uppers in the world.  The spacing between the eyelets is easily adjustable to accommodate most all shoe and boot upper eyelet spacing.  The eyelet feeder is easily removed to allow the machine to be used as a hole puncher only.  Like all auto feed eyelet machines, the Model C is set up to run one barrel diameter size eyelet only.  Additional eyelet feeders can be purchased to change eyelet sizes quickly and easily making this machine very versatile.
Size Capacity
All industry standard shoe and boot eyelets
Advantages
Extremely fast and accurate eyelet setting machine that feeds the eyelets and the

uppers, spaces and sets. A shoe or boot upper can be eyeleted in 3 seconds
Maintenance
Lubrication with 30wt motor oil before use is recommended
Optional Equipment
Interchangeable raceways to run different eyelets are available

Heavy Duty Work Table

LED table work light
Specifications
Dimensions:  24 X 36 inches high, mounted on table: 52 inches high

Weight:  195 pounds

Electrical requirement:   110 Volt AC single phase – standard wall outlet
Remanufactured units available only.  A rebuilding service is available to bring your machine back
to new operating condition.